What is

Vision Therapy?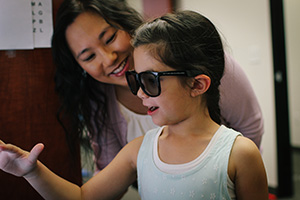 Depending on the type of problem found, sometimes glasses can help. If glasses won't solve the vision problem, then vision therapy is needed.
Vision therapy is much like "physical therapy," but rather than treating the muscles of the body, it works on the eyes and visual system. It is an invaluable tool that has changed not only our patients' vision, but has improved many related areas of their lives as well.
The first step of a vision therapy program is a thorough evaluation to determine if vision therapy is the best course of care. Having had extensive experience treating patients of all ages, our doctor easily makes our younger patients comfortable during this evaluation.
Research has shown that vision therapy can be instrumental in helping increase visual attention spans for children learning to read. Often, children who had been falling behind in reading are able to improve their performance greatly by reducing the effects of their vision problems. Vision therapy truly allows kids to enjoy learning and become more confident, productive and happier people.
What Equipment Does a Vision Therapist Use?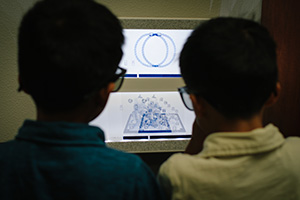 Just as a physical therapist might use treadmills or weights, a vision therapist uses hi-tech equipment, including prisms, lenses, filters, computerized systems, as well as a variety of other specialized equipment to conduct vision therapy sessions.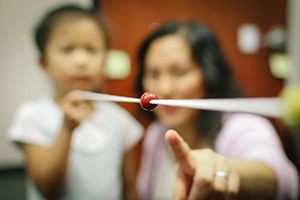 In our office, we use many interactive computer programs that our younger patients enjoy and that result in long-lasting success.
Not only do the programs offer a proven, more effective method of delivering therapy, but the "fun" nature of the programs keeps children motivated to work, and thus, we find that results come quicker and stronger for our patients.
How Long is a Vision Therapy Program?
The number of office visits required depends on the diagnosis and the age of the patient. Vision therapy programs typically involve one to two in-office sessions throughout the week, for a varying number of months depending on need. We usually prescribe home exercises to reinforce office therapy.
Is Vision Therapy the same as "eye exercises", "Colored Lenses", or "orthoptics"?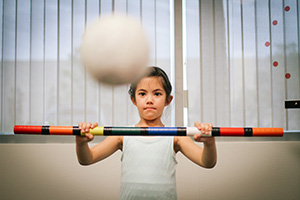 There are a number of programs of "eye exercises" and techniques for improving vision that are not associated with Vision Therapy, such as colored lenses or programs advertised to quickly improve eyesight.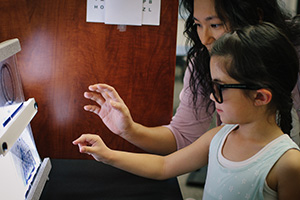 Likewise, education therapy and vision therapy are not to be confused. We do not treat learning problems. We treat them only to the extent that an underlying vision problem is the cause of the learning issue. Once this sort of vision problem is treated, we may refer a patient to a educational therapist or tutor to help them with learning techniques.

Orthoptics means to straighten the eye with exercises. Depending on the diagnosis, sometimes the vision therapy program will include orthoptics. However, there is much more to vision therapy than just orthoptics. For example, vision therapy can include:
Pursuit and saccade therapy (to improve the speed and accuracy of eye movements)
Visual-vestibular therapy (to integrate eye movements with balance)
Visual perceptual therapy (to enhance visual information processing)
Eye-hand coordination therapy (to develop visually guided movement)
Accommodative therapy (to enhance focusing stability, flexibility, and comfort)
Visual attention therapy
Peripheral awareness therapy (enhances the use of vision as a simultaneous sense, synchronously receiving and processing multiple inputs)
Visual-spatial awareness, including laterality, directionality, and visual imagery
Visual-auditory integration
Orthoptics (mechanics of eye movements)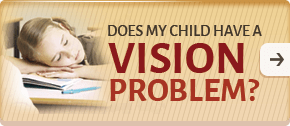 VISION THERAPYSuccess Stories
Las Vegas Vision Therapy
is rated
5

out of

5

based on

6

success stories.
Vision therapy has helped me to focus more. It has helped me see things far away and up close. I can now read better because I'm not skipping words or lines. I am more aware of what my eyes are doing when I focus. I like vision because it's cool and Kareen is really nice.

The reasons that I started vision therapy were to help my eyes become stronger and better. I wanted to improve my handwriting and hopefully not wear glasses when I grew up. During the time I was in vision therapy, I got better grades in writing. My concentration improved. I am happy with vision testing results because I did better each time. My favorite activity was the Dr. Rosner's dots. I really liked Dr. Landerville because she is nice, kind and likes to do fun things.

I really enjoyed my vision therapy. My favorite part was the blocks and the trampoline. I noticed that I accomplished a lot of things like handwriting, not losing my place, and tracking. I liked Dr. Landerville because she is pretty, nice, sweet, kind, encouraging, and smart. Thank you for helping me.

[Vision therapy] helped me see the board at school, it helped me see things at Sunday school, and it helped me with school performance. I had 2 performances, one for Halloween and one for the parents to show them what we know for the semester (for music). I don't get headaches anymore, and I don't get sleepy eyes during class. I don't often skip when I read anymore. My handwriting is better! And I've finished all of my books.

Before I started with Dr. L, I used to lose my place while reading, but now I don't have to use my finger to read. I used to get frustrated and I used to read slowly. Now I like to read and I read faster. Dr. L is nice and fun. I am so happy that she helped me. I love vision therapy.

Dr. Landerville has been an amazing help in trying to fix my eyes. She has helped me to be able to use my left eye in conjunction with my right eye. She has helped me with the reduction of getting headaches with near work. I have gotten a lot better at sports and being able to catch a ball. I no longer avoid sports games. I no longer have motion sickness problems. My handwriting has become a lot better. I have gotten better about falling over things. I have become a lot less clumsy. I am very thankful that Dr. Landerville was able to help me with my eyes and improving my eyes.
Vision Therapy Success Stories...